Exr-IO 2.00 Press Release (www.exr-io.com)
3d-io has released Exr-IO 2.00, an update for the free OpenEXR plug-in for Adobe Photoshop.
For two years we have gathered and studied the requests and wishes from creative artists and studios across the world. They expressed urgent needs for fluent, fast, precise and feature-rich production turnarounds when it comes to editing of professional image material.
The new version of the popular Exr-IO file format plug-in includes support for additional features like cryptomatte decoding, support for mipmaps and ripmaps, reduced memory consumption and numerous quality, compatibility and stability improvements with better error handling.
Exr-IO 2.00 aims to be as feature complete as possible to allow users to read and write the full scope of EXR image data wherever possible and avoid situations where a file cannot be opened because of missing support for a feature of the format. It also tries to preserve and recover as much data as it can to allow Photoshop being used as an intermediate step in a complex production pipeline.
OpenEXR has gained huge popularity in the VFX, design, game and image research industries due to its rich features and support for high quality production. Exr-IO supports this approach and provides free availability and customizable options to allow the inclusion of Photoshop into as many different OpenEXR production workflows as possible.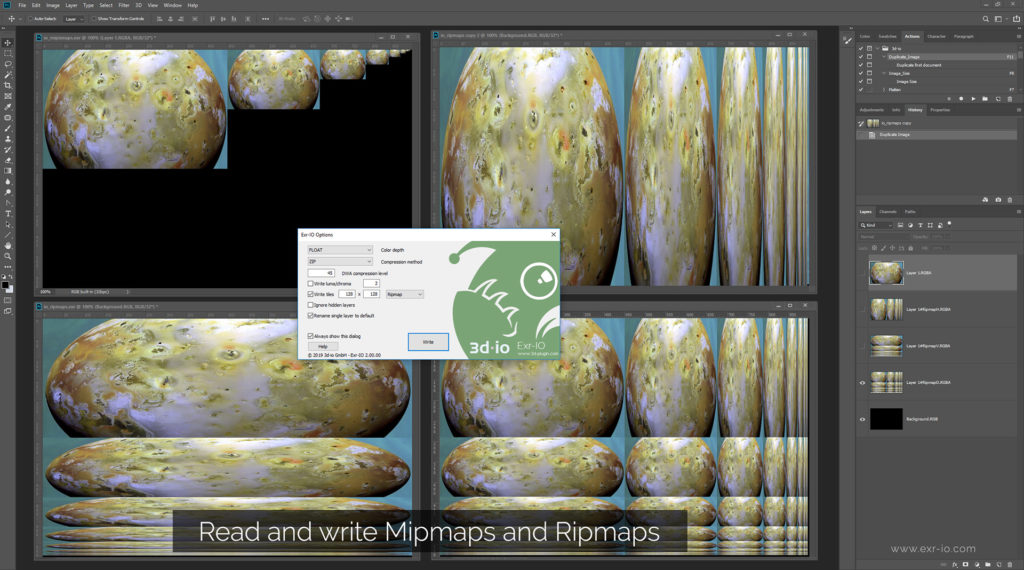 The free download and documentation can be found at the Exr-IO website.
Changes:
* Allow automatic generation of selection mask layers based on cryptomatte data in OpenEXR files.
* Allow filtering of cryptomatte data layers when opening files.
* Added support for reading of mipmaps/ripmaps
* Added support for writing custom created (or edited) mipmaps/ripmaps instead of autogenerated levels.
* Fixed a few issues with autogenerating mipmaps/ripmaps. In some cases autogenerated levels had incorrect scaling and were cropped.
* Memory requirements for reading large files have been significantly reduced (up to 50%) while still keeping read speed as fast as possible.
* Improved handling of damaged files. Exr-IO now tries to recover any undamaged parts it can instead of just rejecting the whole file.
* Any custom attributes included in opened OpenEXR files are kept as metadata and written back to the new file on save.
* Fixed user interface issues on screens with different dpi settings.
* Added an update check to notify user with a small button in the dialog window when a new version is available. No automatic updates are performed to avoid interfering with stable workflows during production.
* Removed group option. This option unfortunately no longer works in newer versions of Photoshop.
* Updated EULA to clarify that Exr-IO may be used for commercial projects without restriction.
About 3d-io
3d-io GmbH was founded in 1999 in Germany as a visual arts studio and software development company. Originally a video games developer, the company optimized its production pipeline by developing its own plugins for Autodesk and Adobe products. Consequentially this resulted in a whole portfolio of specialized 3d-Plugin software solutions consisting of Unwrella, BonesPro, Flatiron, UV-Packer, Spotmask and Exr-IO.
For the last 20 years industry leaders in gaming, VFX, advertisement, architecture and movie production are relying on 3d-io's products for their efficiency, ease of use and robust results.
3d-io is now expanding its successful portfolio with Exr-IO, a free OpenEXR image reader and writer for Adobe Photoshop.